You are here >> Home >> About Us
About Us
Cubane Speciality Chemicals Private Limited is committed to maintaining customer satisfaction, trust and integrity through delivering quality solutions and services conforming to best practices and continuous customer support.
---
Company Objectives:
"investing in Employees. Inspiring Success"
Cubane is committed and dedicated to making a healthy, successful company that is a leader in customer service by maintaining a healthy reputation. Cubane's core strength is its people, and it will continue to focus towards employee welfare with and by whom the organization is prospering. Cubane is committed to remain focused on enrichment of individual employee life style, career growth and stakeholder interest. Cubane Speciality Chemicals Pvt. Ltd considers Safety, Health and Environment as important areas of commitment to its suppliers, customers and employees whilst growing business.
---
Research and Development Center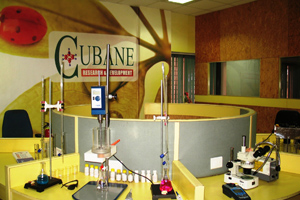 Since inception, Cubane has succeeded in establishing its brand image across the Pulp and Paper industry as a Solution provider through innovation in application as well as formulations.
Cubane is committed to put in 2 – 3% of its turnover into R & D activities and work on projects which would involve activities around areas which the pulp and paper industries have biggest concerns.
Pune has a quite a number of Paper Mills in a radius of 350 kms including places like Vapi, Bhigwan, Mahad, Mumbai and also Nagpur. The mills have a variety of grades manufactured, raw materials used and effluents discharged which would represent the Industry's requirement as a whole. Pune forms a centre for research work with various organisations like the Science Technology Park, Handmade Paper Institute, Vasantdada Sugar Institute & NCL. Their facilities would provide a place to conduct a fair number of tests apart from the research equipments Cubane have and intend to procure.
Pulp and water samples deteriorate quite fast and hence having mills within a short distance producing various grades and using raw materials would be very important.
R & D Equipment Availability:
Deinking Voith Cell
Britt Jar
EGT Tester
Fluff Tester
Turbidity meters
Handsheet maker
Lab Pulper
Standard equipment for the R & D centre, like viscometers, conductivity, turbidity meter , Jar Tester, de-foamer kit , stereoscopes etc.
Additionally at joint lab at the STP gives access to instruments like:
Millipore
Anaerobic Jar
ICP, GC, UV-Spectorphotometer
Compound Microscope
Laminar Air flow